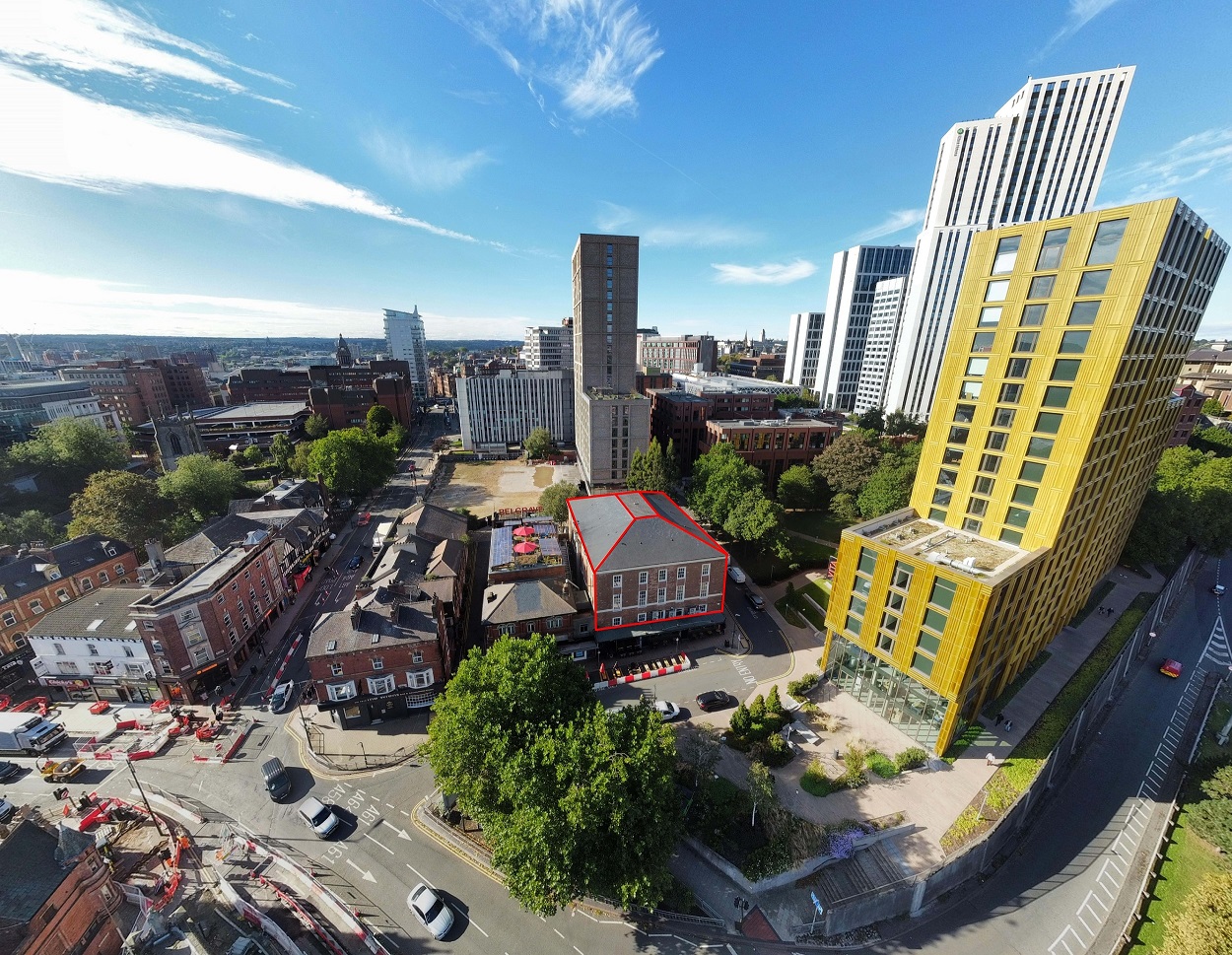 We are highly delighted to confirm the letting of the whole of Belgrave Hall, Belgrave Street, Leeds LS2 8DD to HG Construction Limited who have secured a £100m+ contract for the construction of a brand new high rise student apartment block at 44 Merrion Street (former Santander Building) in Leeds.
Belgrave Hall comprises a self-contained three storey (plus basement level) office building extending to 14,232 sq.ft with excellent dedicated on-site car park and is situated opposite the 44 Merrion Street development site.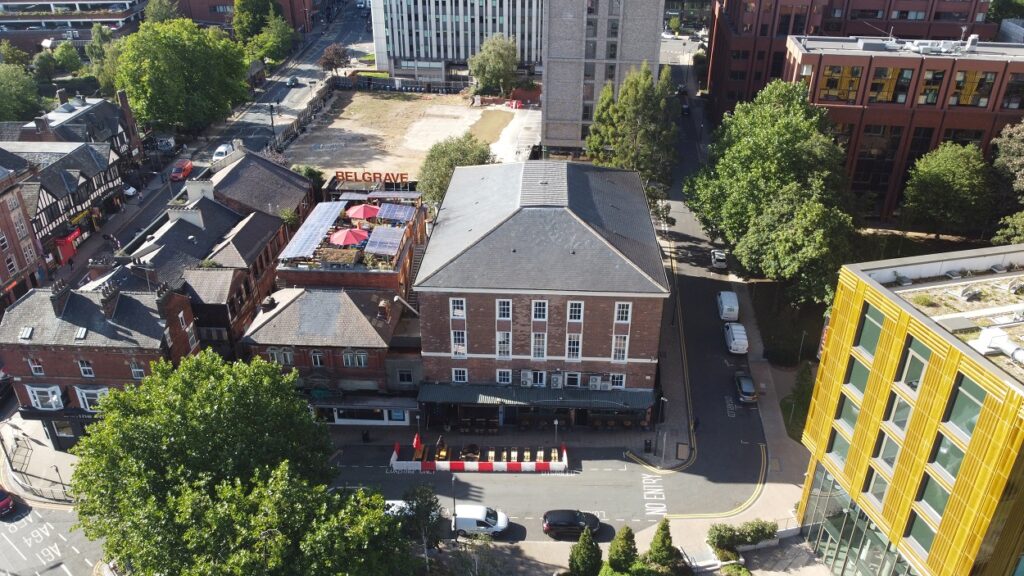 The new 660 bed, 32 storey Sky Scraper will be a colossal 99.8m tall and will sit on the highly prominent rectangular shaped plot which can be seen to the rear of Belgrave Hall on the image above.
The development will feature a mixture of studios and en-suite cluster apartments, alongside extensive communal and amenity spaces such as a fitness studio, cinema, shared use kitchens, concierge reception, residents hub amenities plus commercial (A1, A3, A4 or D1) units to the lower floors.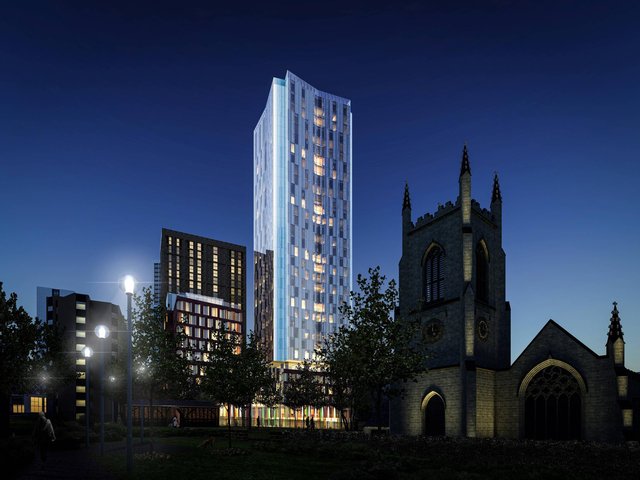 HG Construction have also agreed a shorter term sub let of part of our space at Belgrave Hall to Farrans Construction who are the main contractor for the 'Live Oasis: Strato' 20 storey high rise development situated at the Junction of Wade Lane and Belgrave Street. The Strato building is the third phase of the LiveOasis Arena Quarter student apartment scheme, located just a stones throw away from Belgrave Hall.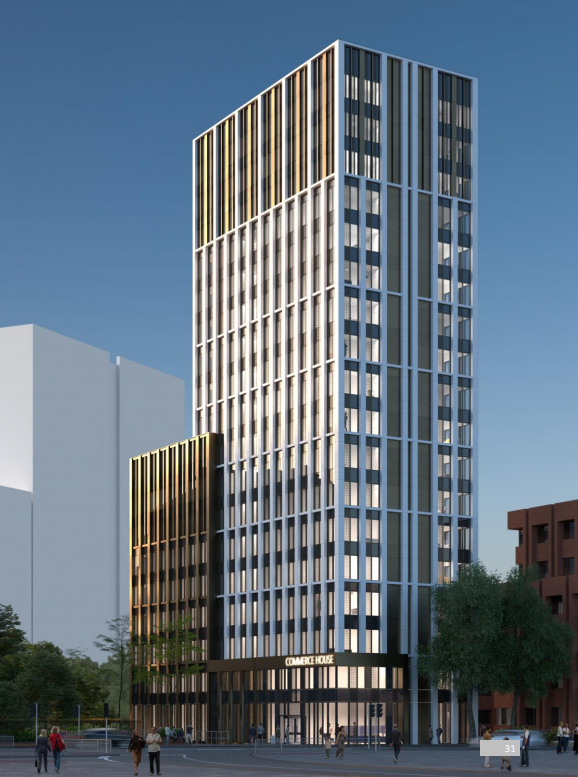 This area of the City has received unprecedented attention from high rise developers with Symons House, Leeds St Albans and Altus House all rising from the ground over the last few years and we look forward to seeing the 44 Merrion Street development and the LiveOasis: Strato development come to fruition in the Civic Quarter of the City.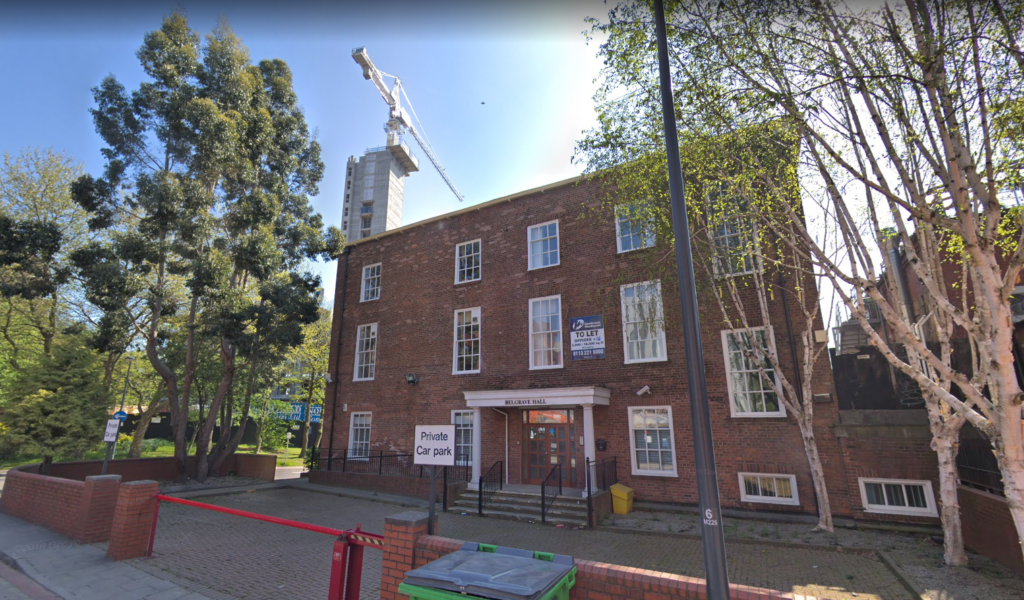 Lettings Manager for Wharfedale Property, Joe Oade stated:
"We are delighted to provide HG Construction and Farrans Construction with the facility for car parking, site offices, welfare facilities, regional meeting space, managerial offices and storage within our prestigious City Centre building and we are highly grateful to be able to play our part in the shaping of the City's landscape".
For all your property needs, whether they be industrial, office, leisure or retail, please do not hesitate to get in touch with our expert team on 01924 476 496 who will be able to tailor a solution to suit your requirements.